The Adcock's Advantage
Adcock's Nursery is a major grower and supplier of quality container shrubs, trees, groundcovers and perennials for landscape contractors, builders, developers and garden centers. Located about 14 miles southwest of Raleigh in Fuquay-Varina, NC, the priorities at Adcock's Nursery are providing top quality plant materials and a level of customer service that's unmatched in the industry.
With 50-acres currently in production, Adcock's Nursery is well positioned to meet the incredible demands for quality plant stock in this growing region.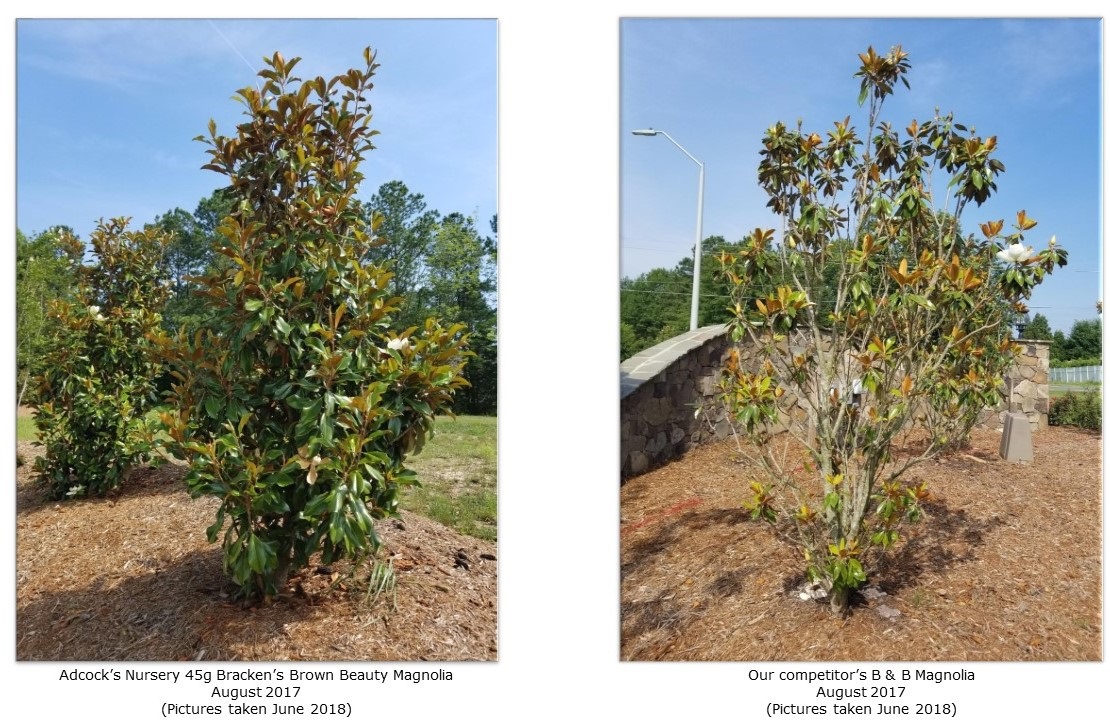 Adcock's Service
We understand our customers are busy. We also know you don't have any time to waste when assembling plant material. For these reasons, the entire staff at Adcock's is focused on prompt, accurate service. Our sales staff has considerable experience in the nursery and landscaping industries and we understand the challenges of finding, selecting and ordering the plant material you need.
Once an order is e-mailed, faxed or phoned in to our office, it will be ready for pick-up when you get to the nursery. You can also count on a phone call from one of our highly experienced sales staff if there are any questions concerning your order. In addition, we have a modern fleet of box trucks and can provide deliveries to your shop or job site on schedule. Our delivery rates are among the most competitive in the market.
The Adcock's Difference
It all begins with quality liners, or young plants, that we begin with. Other critical factors include the potting media used in growing; the quality of fertilizer that's used; disease and insect control programs; pruning techniques; carefully managed irrigation schedules and much more.
As a best management practice, we incorporate a 270-day controlled release fertilizer in our potting media. We use some of the most expensive fertilizer available on the market today. It is 100% controlled release, which helps minimize 'fertilizer burn' and contributes to uniform crop quality, size and color;
We utilize an integrated pest management program where careful scouting and observation help us determine when a condition is severe enough to warrant chemical applications. Some plant cultivars require regular chemical applications during the active growing season to control diseases and insects. These plants are on 21-day spray schedules to prevent and control leaf spot and insects like scale and whitefly.
We invite you to personally experience the Adcock's Advantage the next time you need top quality trees, shrubs and groundcovers.
Pruning and Shearing the Adcock's Way
At Adcock's Nursery we use a combination of selective pruning and shearing techniques. Selective pruning is all done by hand using by-pass pruners and loppers and is very labor intensive. Selective pruning gives the plant a more untouched, natural look. It also allows us to better direct the growth of the plant without having unsightly stubs.
We want our trees to have extremely straight central leaders to encourage growth in a structurally sound direction. We also prune to eliminate narrow crotch angles between branches and trunks. Narrow crotch angles can be extremely weak and are prone to splitting, which can be hazardous in the landscape.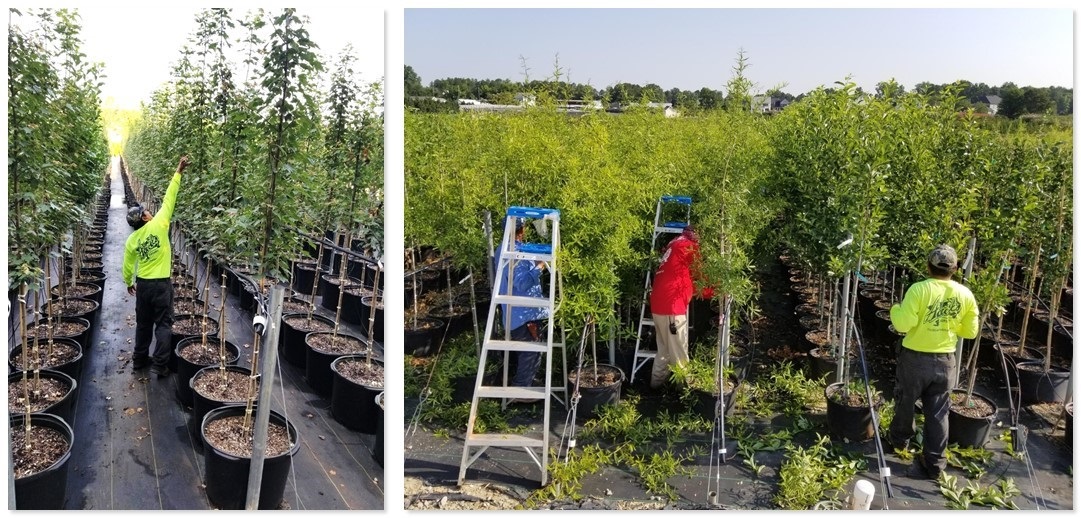 State of the Art Irrigation
The irrigation system at Adcock's Nursery is one of the best in the industry. Water is supplied from a series of ponds on the nursery. An extensive network of drainage canals was built at the nursery about 10 years ago that allows us to recapture 100% of the water not used by our plant material. This system enables us to carefully control the amount of water our shrubs and trees receive. In addition, it allows us to maintain a 20% leaching fraction, which helps us conserve water and fertilizer to make sure all the plants' needs are met. When you buy a container tree or shrub from Adcock's Nursery, each pot contains an expensive, long lasting, slow-release fertilizer.
Our shrubs, trees and groundcovers consistently meet or exceed the expectations of our customers. Another important factor that sets us apart from the competition is the consistency of our stock. Many nurseries only have certain items during certain times of the year. At other times, they run out of some materials and will not have new plants until the next year. At Adcock's Nursery, we focus on inventory control very carefully. We monitor the needs of our customers and plan our product lines and growing schedules so we can consistently meet your requirements.
This careful attention to growing methods and inventory control allows us to produce plant material that is ready to perform in your landscape. We expect you to see a significant difference in our plants when compared to those from other nurseries.
We invite you to personally experience the Adcock's Advantage the next time you need top quality trees, shrubs and groundcovers.