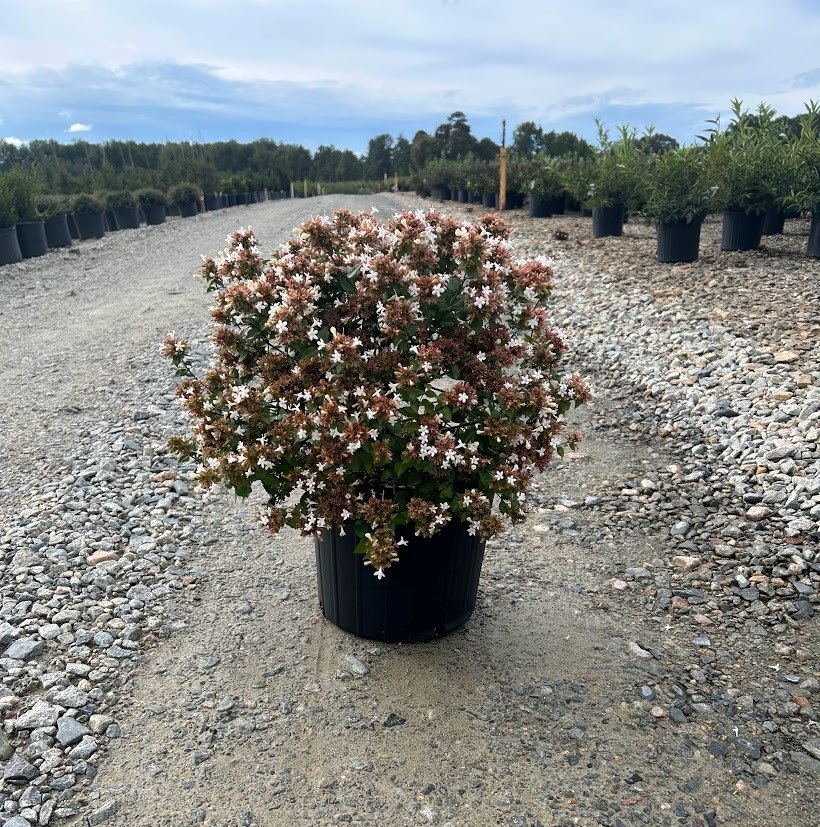 Abelia x 'Rose Creek'
White blooms, grows 2-3' ht x 3-4' sp

Rose Creek Abelia has a low mounding growth habit, crimson stem color, fragrant white flowers, and exceptionally long bloom period (May to frost). The plant grows 2 to 3 feet tall and 3 to 4 feet side, making it an excellent choice for foundation plantings, containers or low-growing hedges. Rose Creek Abelia has evergreen leaves that emerge with a pinkish cast, turn dark green in summer, and then darken to purple-green in winter, giving the plant an ever-changing seasonal interest. Cluster after cluster of white, fragrant, tubular flowers about a half-inch long are borne throughout the growing season. Below each flower are small, light pink, modified leaves called the calyx, which remain on the plant after the flowers fade and provide even more pizzazz to the floral display. Rose Creek is drought tolerant, deer-resistant and seldom bothered by pests. It is also highly attractive to butterflies and bees. Abelias are drought tolerant and tolerate full to part sun but do best in full sun.